Teaching for Transformation: Distinctly Christian!
The Mission of Allendale Christian School is to equip students academically, spiritually, and socially to gratefully serve God in all aspects of life. There are many ways that students are introduced to God's word and many opportunities to grow in faith and to express faith. ACS is intentional about faith nurture and spiritual growth in ALL we do!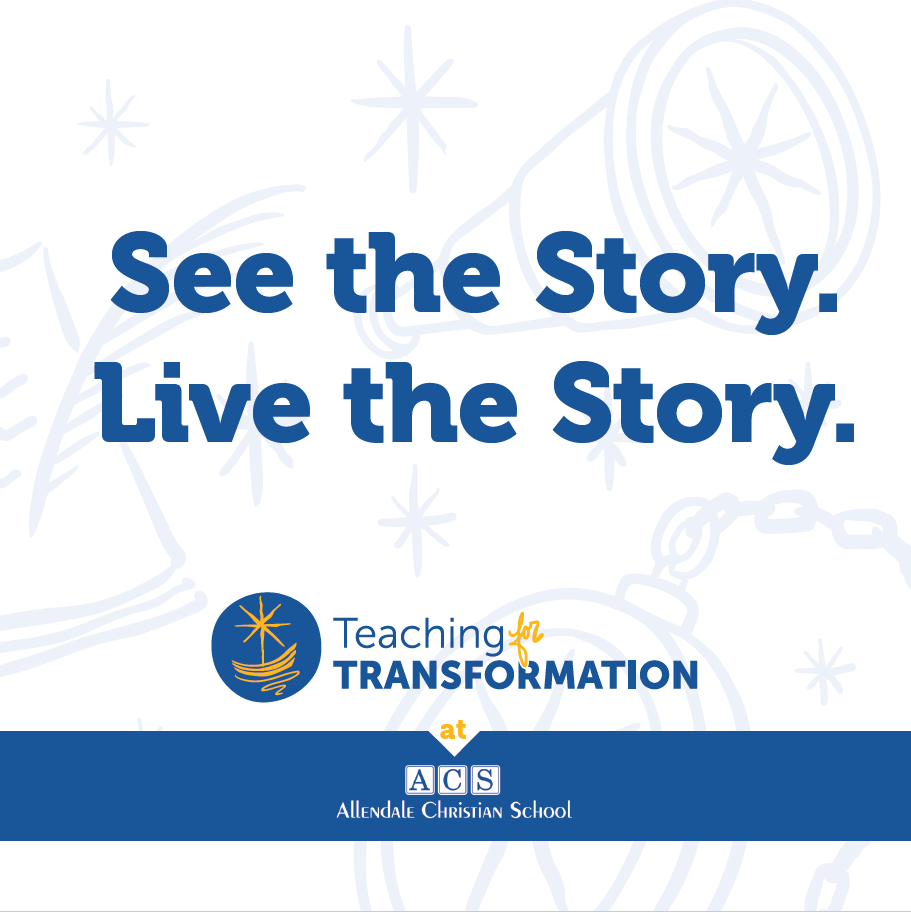 TEACHING FOR TRANSFORMATION (TfT) is the name of the Biblical Worldview program that provides the framework for all that we do at ACS. Each teacher has a deep hope for their students, a class storyline that is a part of God's Big Story, and creates authentic experiences to get students outside the walls of the classroom and in to situations where they meet the real needs in the community. Our goal is that we will prepare students to not only SEE God's Story, but also to LIVE God's Story in their everyday life. Teachers and students are working together on important work—real work with real people who have real needs—real Kingdom work for a real and alive God! For an excellent description of the program, click on the picture to the right.
With TfT, students are "developing a way of seeing and living in the world that is consistent with Abraham Kuyper's declaration that "there is not a square inch in the whole domain of our human existence over which Christ, who is sovereign over all, does not cry, 'Mine!'" God created all things. Even after the fall, which indeed affects and infects all things, creation remains good. Christ's redemptive act touches all things, redirecting them to their God-designated purposes. Someday, all things will be fully restored, but the work of renewal begins now, and we are privileged to be coworkers with God in this process. That's where Teaching for Transformation (TfT) comes in!"
The TfT program has three core practices: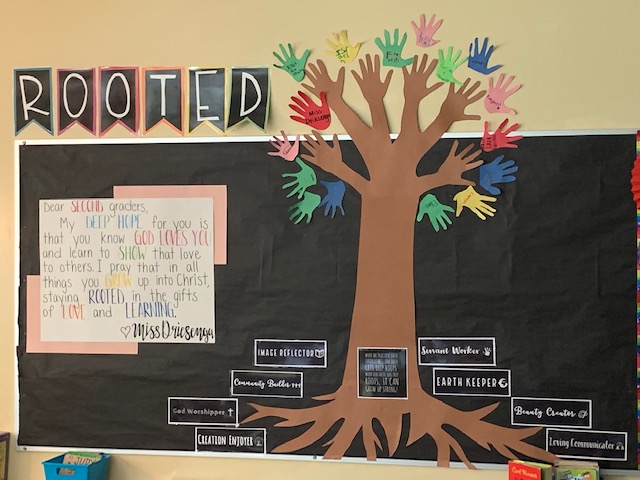 Every Christian school classroom must have a compelling vision of the Kingdom, and how each student play's a role in God's Big Story of creation, fall, redemption, and restoration. This is happening in every classroom at ACS! For example, in one classroom at ACS, the storyline is I'm Powered (play off 'empowered'). They have studied Ephesians 3:20-21, and are focusing on how God's power is at work within us to make a difference for the Lord, and build His Kingdom.
Every Christian school must have a student profile that invites every student to play their part in God's story. A few Habits of Living that you will find at ACS are servant worker, justice seeker, idolatry discerner, order discoverer, image reflector, and loving communicator. These habits will be woven in classroom units, just like state academic standards are. These habits are consistent from Preschool through 8th grade, inviting our students to imagine the role in God's story. For a description of each of the elevent Habits of Living, visit this link.
Every Christian school must provide authentic opportunities for students to practice living the Kingdom story. For ACS, authentic means that we are doing real work, tackling real problems, for real people. We want learning to be both inside and outside of a classroom. Kid's need a chance to not only see the Story AND live the Story! FLEx will allow ACS students to do God's work now, and not just be prepared to do it in the future. FLEx opportunities have allowed ACS students to meet the real needs of many audiences in our community!
The stories from FLEx opportunities at ACS continue to grow! Our kids are truly learning to LIVE the story! See below for a growing list of FLEx stories: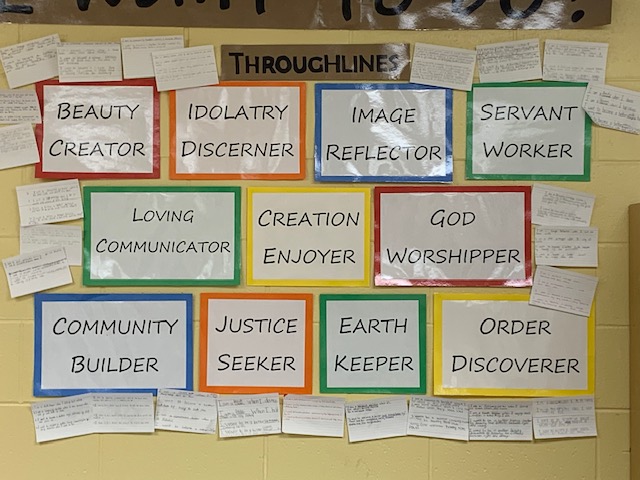 The teachers will help the students formulate a deep hope for their growth at ACS. To learn more about Deep Hopes, visit Deep Hope and Deep Hope, Part Two. As students progress through the grades, parents are able to watch their child's deep hope grow and deepen. This is one tangible way to watch faith growth during their ACS years. It is an awesome privilege and opportunity to partner with parents in providing a Christ-centered education that truly transforms children as they live in God's Big Story! To learn more about Teaching for Transformation, please email Head of School, Brian Koetje, at bkoetje@allendalechristian.org, or call the office at 616-895-5108.
From a Parent:
"The value of ACS can never be put into $$. The value is when you see the lives of kids developing to look more like Christ. From the top down, Christ is modeled and glorified in every way. I can't express what being part of the ACS community means to me. Also, through things like RightNow Media (provided for free by ACS), ACS shows that helping grow families closer to Christ doesn't end when the final bell rings for the day. Instead, ACS looks to pour into families in every facet of life as we look to be like Christ in all things."