Teaching for Transformation:
Biblical Worldview Framework at ACS
In the fall of 2018, teachers at Allendale Christian began a two-year professional growth journey that will transform the way they implement a Biblical worldview in their classroom. ACS was accepted in to a program called Teaching for Transformation (TfT). Over the next two school years, ACS teachers will take part in 16 training days that will prepare them to help students not only SEE God's story, but also to LIVE the story. We are so excited about this new program! A Principal at a Christian school that recently implemented TfT said the program was a "game-changer at our school, changing how we think, teach, learn, reflect, and serve. Teachers and students are working together on important work—real work with real people who have real needs—real Kingdom work for a real and alive God."
James K. A. Smith, a Professor of Philosophy at Calvin College, wrote the book, You are What You Love. This book has been a great resource for the TfT team. In it, he writes that "a Christian education can never be merely a mastery of a field of knowledge or technical skills; learning is embedded in a wider vision of who I am called to be. How does my learning fit in this Story?" (164). This idea is central the Teaching for Transformation program, and our hopes at Allendale Christian School. It is our desire that our curriculum finds both meaning and purpose within God's story of redemption. We want our students to live in to the redemption story.
The TfT program has three core practices:
Core Practice #1: Storyline—Every Christian school classroom must have a compelling vision of the Kingdom, and how each student play's a role in God's Big Story of creation, fall, redemption, and restoration. For example, in one classroom at ACS, the storyline is I'm Powered (play off 'empowered'). They have studied Ephesians 3:20-21, and are focusing on how God's power is at work within us to make a difference for the Lord, and build His Kingdom.

Core Practice #2: Biblical Throughlines—Every Christian school must have a student profile that invites every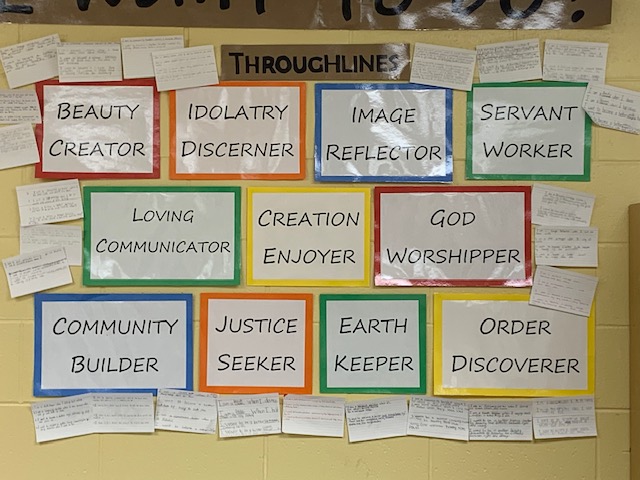 student to play their part in God's story. Throughlines that you will find at ACS are servant worker, justice seeker, idolatry discerner, order discoverer, image reflector, and loving communicator. These throughlines will be woven in classroom units, just like state academic standards are. These throughlines are consistent from Preschool through 8th grade, inviting our students to imagine the role in God's story.
Core Practice #3: FLEx (Formational Learning Experiences)—Every Christian school must provide authentic opportunities for students to practice living the Kingdom story. For ACS, authentic means that we are doing real work, tackling real problems, for real people. We want learning to be both inside and outside of a classroom. Kid's need a chance to not only see the Story AND live the Story! FLEx will allow ACS students to do God's work now, and not just be prepared to do it in the future.
We would LOVE to share more about this program with you, and how it is weaves through everything we do with our students at ACS! To learn more, please follow this link: TfT Description